Beliefs and Biodiversity: Rediscovering Religion and Conservation in Sumatra
|
Several hours after leaving the oppressive heat and congestion of the West Sumatran capital of Padang, we reach Guguak Malalo. I am immediately struck by the refreshing climate and calming influence of the dense tropical vegetation surrounding me. Sitting in the shade provided by a strangling fig tree, I reflect upon this often overlooked benefit that ecosystem services provide us as well as the many others such as clean water, a crucial yet dwindling resource now facing humanity. The big challenge for conservation is to make it relevant to the lives of local people and I believe this project has a chance of doing that.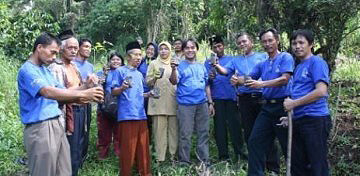 West Sumatra still contains some of the most pristine rainforest in Indonesia and a watershed that services more than a million people. It is also home to the indigenous Minangkabau (or Minang) ethnic group.
Strongly Islamic, the Minang have a rich heritage of religious and cultural traditions, or adat which still have a strong influence on daily life. Guguak Malalo is one of three sites where the Durrell Institute of Conservation and Ecology (DICE) is implementing a faith-based community conservation programme. It is funded by the British Government's Darwin Initiative (DI) programme, through a three-year project entitled 'Integrating religion with conservation: Islamic beliefs and Sumatran forest management'. The project has just entered its second year.
If you like to read more, click here