CINTA UNTUK BUMI YANG SATU: DIALOG KOMUNITAS MUSLIM DAN KATOLIK DUNIA UNTUK HARI BUMI
|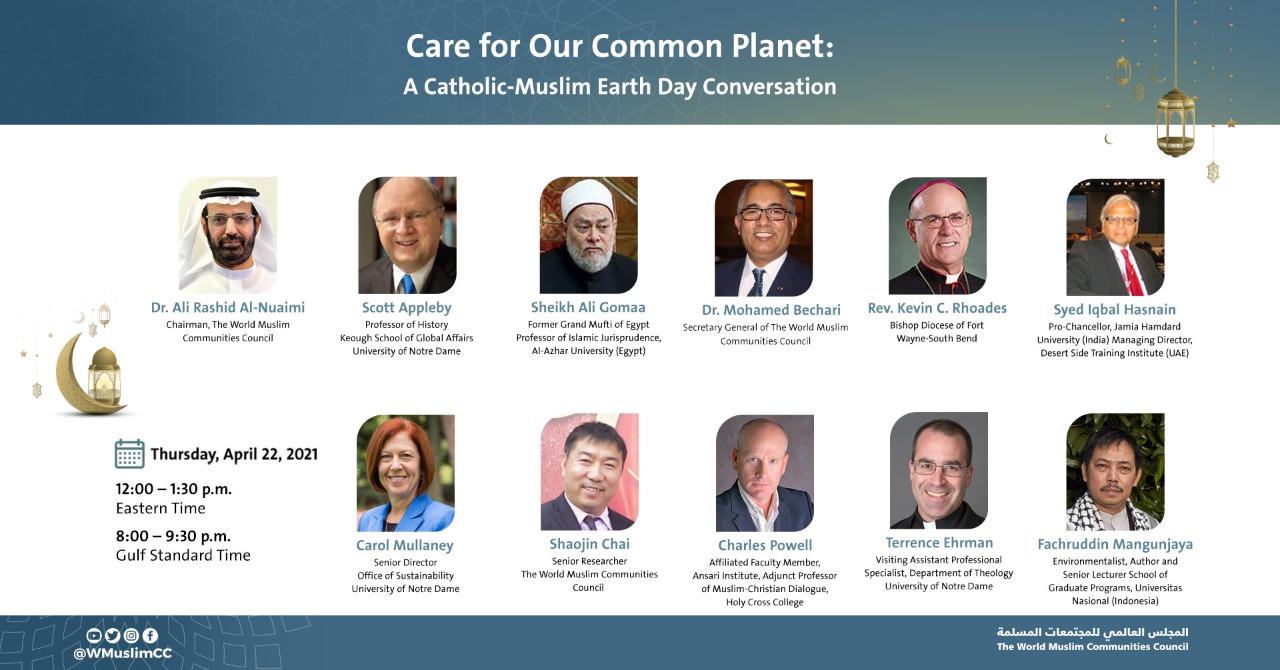 Jakarta (PPI-UNAS).  Pandemi global COVID-19 telah menghancurkan ketamakan kolektif kita dan menyebabkan ketidakadilan yang begitu luas. COVID-19 menjadi pengingat bahwa saat ini manusia tengah menghadapi ancaman besar berupa kerusakan lingkungan yang akan menghancurkan kehidupan keluarga manusia secara global.
Apakah setelah pandemi ini, kita mampu untuk bersama-sama melakukan pemulihan yang benar-benar "hijau"? Bagaimakah para pemimpin dan komunitas agama dapat berdialog secara terbuka dan melakukan aksi bersama yang berkelanjuatan? Bagaimanakah tangapan agama terhadap ekologi dan sosial dan berkontribusi dengan menyebarkan ajaran belas kasihan dan keadilan? Dan bagaimana orang percaya di seluruh dunia dapat bergandengan tangan untuk menciptakan budaya perdamaian, persaudaraan, dan penghormatan global bagi Pencipta dan ciptaan?

Untuk menghormati Hari Bumi, bergabunglah dengan kami untuk percakapan yang tepat waktu tentang topik ini. Dengarkan dari para pemimpin, cendekiawan, dan praktisi iman dari tradisi Muslim dan Katolik. Pelajari bagaimana keterlibatan multiagama dapat meletakkan dasar untuk saling pengertian antara tradisi dan komunitas, menciptakan landasan bersama dan menginspirasi aksi bersama saat kita bekerja sama untuk perdamaian dan kemajuan manusia di planet tempat kita berbagi.
Care for Our Common Planet: A Catholic-Muslim Earth Day Conversation
Kamis, 22 April 2021
Pukul 8:00 – 9:30 p.m. Gulf Standard Time/ 23.00 WIB
---
Update: 
The World Muslims Communities Council, in partnership with Ansari Institute for Global Engagement of Religion, University of Notre Dame, would like to invite scholars, faith leaders and educators to participate in a Webinar "Inter-Faith Care of Common Planet: Catholic-Muslim Earth Day Dialogue" to discuss the role of faith leaders and communities, especially of Islamic and Catholic tradition, in peace building with both nature society, green relief and climate commitment in face of the global pandemic. The Webinar is aimed to further promoting spirit of common humanity, common planet and care of all living things. This webinar calls for leaders and scholars of Catholicism and Islam to discuss and explore the progress & prospect of interreligious peace and sustainable development by mobilizing the efforts of faiths and higher education institutions, and spiritual-intellectual resources. Through religious dialogue and scholarly exchange, the Webinar is expected to lay the foundation for mutual understanding between two traditions and communities, as well as opening new common ground of joint action on maintaining peace and prosperity on the Earth.
Related Link:
TMCC News: Care for Our common Planet